Pop-up restaurant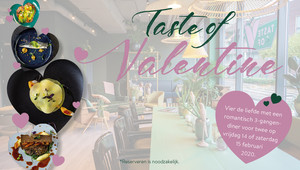 Taste of Valentine
Take your loved one on Friday 14 or Saturday 15 February 2020 to Taste of V and experience a wonderful evening together. We will welcome you with a cocktail and we serve the following menu:
Menu
Starter of your choice:
Beef carpaccio with oyster mushroom, sweet and sour onion, truffle mayonnaise and Parmesan cheese
or
Salmon with tzatziki and croutons
or
Beet tartare with creme fraiche, dill and sesame
***
Chef's tasting
***
Romantic dessert for two
Click here to reserve a table. Please mention 'Valentine menu'.