Enjoy your stay at
Hotel Venlo

Restaurant & Bar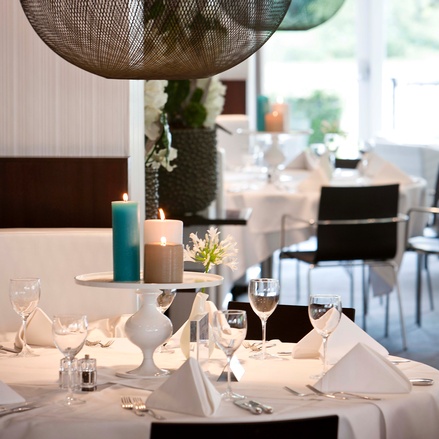 Restaurant & Bar
In the beginning of 2011 we refurbished our restaurant. Our restaurant and the brasserie are the heart of Van der Valk Hotel Venlo. As of 6 AM (in the weekends as of 7 AM) until 10.30 PM you are more than welcome for a continental breakfast buffet including a live cooking buffet, (business) lunch and dinner. In addition to a number of local dishes, we also serve dishes prepared with organic ingredients.
Extensive wine menu?
A suitable glass of wine for every dish. Ask for our extensive wine menu. We have selected a wide variety of international wines for you. You can count on a great wine and food combination. Please let our staff inform you.
Brasserie
Our brasserie is famous for its informal atmosphere and sociable ambiance.
Terrace
Starting the spring, you can enjoy lunch and dinner at the sociable refurbished outdoor terrace.
Breakfast
Every day, we serve a rich breakfast buffet. On weekdays, you are welcome every morning from 6 AM to 10 AM. In the weekends, we serve breakfast from 7 AM until 11 AM.
Passers-by may use the breakfast buffet as well. Ask for our reward points. A full card, will entitle you to a free breakfast.
See also