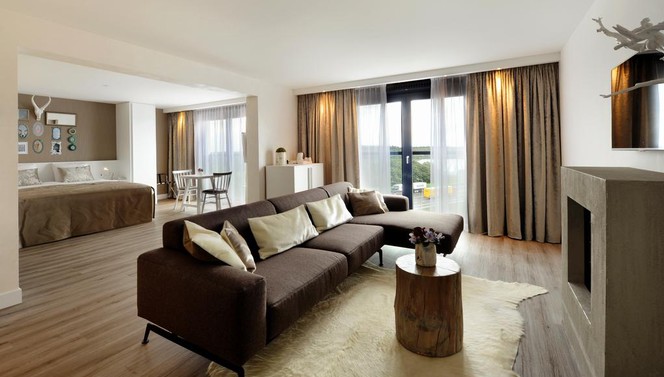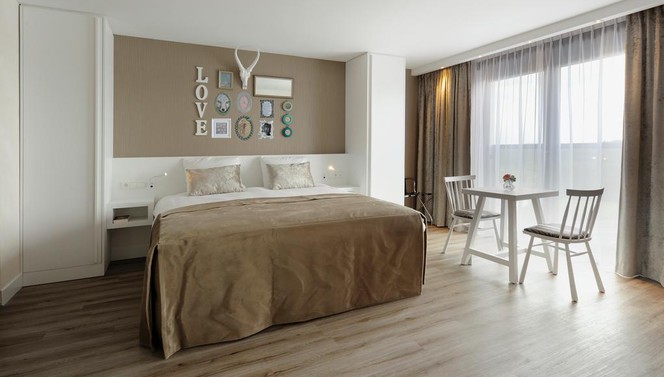 The Junior Suites are located in the "small tower" of the hotel. The new rooms are located in the "big tower". The junior suites are spacious with an attractive decor and feature a private entrance. In the hall is a luxury toilet.
The living room is furnished with a safe, TV, empty fridge (at the reception is a minibarbox available), tea and coffee facilities, table, two sofas and chairs. In addition, the room has a desk with two workplaces.
The bedroom features a kingsize bed with flatscreen. From the bedroom you have direct access to the bathroom. The bathroom has a bath, two sinks and a toilet.
Deposit
For a stay in our Suite rooms we ask for a deposit of € 150.00 per stay. The deposit is paid on arrival at the hotel by bank or credit card. After check-out, we check the room to see if it has been left in a neat condition. If so, the deposit will be refunded.
THE FITNESS AND WELLNESS ARE OPEN
As a hotel guest you can make free use of our luxury sports and wellness department with an indoor swimming pool, fitness and various saunas. At surcharge you can enjoy professional beauty treatments such as body massages and facials or a personal trainer.
Discover the beautiful nature in the surroundings of Venlo and North Limburg with one of our bicycles, E-bikes and E-choppers.
Do you want to do outdoor sports such as hiking, cycling, running or explore the beautiful nature with your mountainbike? We have already selected the routes for you.
The hotel has charging stations for your car and a closed bicycle shed with charging facilities, bicycle pump and small tools.
Breakfast: €17.50 p.p.